Aloha Alchemy Sampler Pack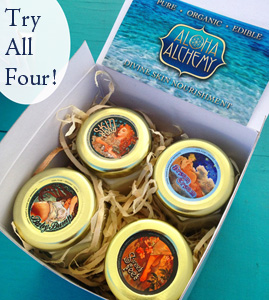 Can't decide which of our luscious body butters you want? Here is a perfect opportunity to enjoy ALL of our creations! Our sampler pack comes with a 1.5 ounce jar of each of our 4 body butters—SkinFood, DreamCream, SweetFeet, and BabyBump!
goddess tip: These mini sized jars make excellent travel companions. Be aware…they melt more easily in these smaller sizes!
Sampler pack includes:
4 x 1.5 oz. jars in a white cardstock box with Aloha Alchemy logo.
Aloha Alchemy Sampler Pack 
 *** SPREAD THE LOVE TO YOUR VALENTINES!  ***All orders placed after January 28th will not be filled and shipped until February 18th, 2018 (2.18.2018)