How do you nourish your world?
For us lucky humans, each new day is full of opportunities to make decisions related to nourishing ourselves.  Fast food or farmer's market?  TV or book?  Corporate discount store or local business? Taking time to share a conversation with a friend nourishes our hearts; taking time to lovingly prepare a healthy meal nourishes our bodies; taking time to read an interesting article (or my favorite new past-time, watch a TED talk at TED.com) nourishes our minds; taking time to inhale a deep, conscious breath and connect with ourselves nourishes our spirits. In other words, taking time to Love ourselves nourishes us on every level. That is why we enjoy taking time to create high vibration and quality skincare with lots of Love to nourish the world in our own way!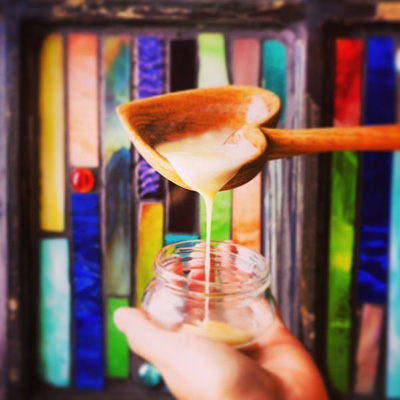 Our Mission
At Aloha Alchemy, we make our products with the highest quality ingredients possible to create a skincare line that is pure enough to eat, so that you can feel good about what is going on–and in–your skin.  We are committed to making a big impact on your skin and a small impact on the planet by using only organic, sustainable, and biodegradable materials.
Our Hope
We are visiting farms and working toward sourcing as many of our ingredients as we can from small, fair-trade, and family-operated farms.  We hope that our products will spark a *consciousness* of how you choose to nourish your body inside and out, and that it will spread to how you nourish your mind, your spirit, your home, your community, your life, and ultimately our world.  And we hope you choose to nourish it with LOVE.